Please note: This is NOT for clear aligners and clear retainers and occlusal guards.
In the evening:
Remove partial at night time and brush with soap and water. DO NOT use tooth paste.
Place denture in cleaner solution over night
Brush teeth as usual and use mouth wash with fluoride. DO NOT rinse with water after using the mouth wash.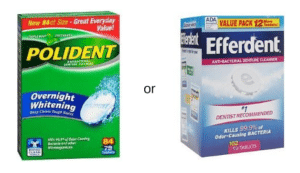 In the morning:
Brush teeth as usual
Take partial out of cleaner, rinse very well with water and insert in the mouth
If needed denture can be removed and rinsed with water after meals. Also rinse mouth with mouth wash after meals.