In the morning:
 Remove aligner/guard in the morning and brush with soap and water. Do Not use toothpaste.
Place retainer/guard in storage box
Brush teeth as usual and use mouth wash with fluoride. DO NOT rinse with water after using the mouth wash.
If using an active aligner, re-insert aligner over the teeth
Before bed:
Floss and brush teeth as usual
Rinse retainer/guard and insert over teeth OR brush aligner with soap and water and re-insert aligner over the teeth.
Once a week or as necessary use an aligner/retainers cleaner product (follow instructions on the box).
Example: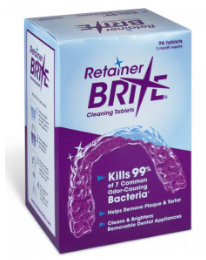 Learn more about why at-home aligners might not be the best option for you